Form Fill Seal Packaging:
In collaboration with European companies, together we can supply you with complete packaging solutions for your form fill seal and sachet packaging needs.
In this section, we are referring to thermoforming, horizontal form-fill-seal packaging lines used in the food industry (but not exclusively).

Our packaging machines are suitable for liquid, semi-liquid, creamy, pump-able viscous products and granulated powders.

The packages are made from plastic rolls of single or multi-layer plastic materials, thermoformed into cups. After filling, the cups are then sealed with lids usually made from aluminum, plastic or paper lids (also fed in rolls).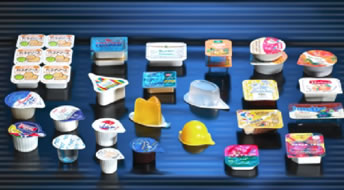 The advantage of this type of system is both from economical and hygienic standards. We even have lines that are fully aseptic, but we ensure that all of our lines meet a high standard of minimal hygienic standards, where no contact with the packaging material or the food product is made once they enter the machine.
With Hydrotec, you get what you want, because we configure each model to suite your exact needs. We can supply lines of varying capacities, from as low as 6000 cups/hr to as high as 100,000 cups/hr, of course the type of product and packaging size is the key factor.

For more information, please don't hesitate to contact us and a Sales Engineer will happily respond to your request.